Retrofitting the Barn
Dear Friends,
the busy Summer season is over and it's now time to welcome the long cold Winter that soon will arrive. We are fortunate to have a beautiful home that serves many functions, such as housing, meditation, cooking and leisure. The only setback is this house is too small to meet all the needs of the increasing number of visitors and permanent residents.
During the Summer, guests, visitors, volunteers, workshop's participants, and even some of the community's residents, have been accommodated in tents. As the number of visitors is growing every passing year, it calls for us to offer better conditions to all.
For this to happen, one of our goals is to adapt the structure of our old barn. The works already started in order to accommodate residents this Winter and visitors next season. When the works are completed, a new barn will serve as accommodation, co-working space and a 48m2 sheltered common eating area, providing all the conditions and covering the needs of all visitors, workshop's participants and residents. All those who have visited us, know how important this work is and how much the whole Community and visitors will benefit.
In total, 7.450 Eur are needed to accomplish a new, fully operational structure, with all the necessary conditions.
Let's do it together
"If you want to walk fast walk alone,
if you want to walk far, walk together."
African Proverb
The plan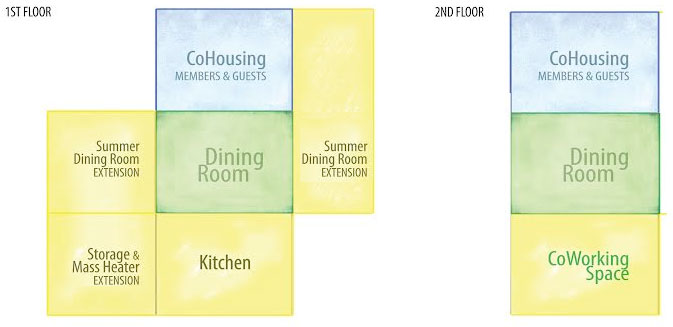 Stages
1st STAGE **CLOSED**
2nd STAGE
3rd STAGE
Works to end NOV 2015
Works to end MAY 2016 – extended
Works to end SEP 2016

housing
covered dining room

kitchen
extended covered summer dining room
storage
co-working space

TOTAL RAISED: 2.700 EUR
TOTAL: 1.250 EUR
RAISED: 410 EUR
NEEDED: 840 EUR
TOTAL: 3.600 EUR
RAISED: 0 EUR
NEEDED: 3.600 EUR
Or maybe you have something that you no longer use and that we may need.
See our wishlist page.
THANK YOU!